---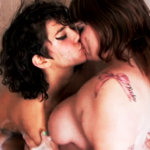 Courtney Trouble was meandering down the street on their bike when out of no where, Bianca Stone, riding like crazy in hot pink shorts, crashed right into them!  After rolling around on the ground covered in hot, glittery grease, they disputed who was at fault. Then rather then get mad, they got turned on!! Next thing you know they were having a hot shower fuck, full of gushing orgasms.  Lucky us.
Thanks to Bike Smut for the inspiration and Bratmobile for the track "Kiss and Ride"
---
Not a Member? Join Now, so you can see this hot shit right now!