This is Indie Porn Revolution
Welcome to Indie Porn Revolution, the longest-running porn site of it's kind. Began in 2002 as NoFauxxx.Com, Indie Porn Revolution was home to a true subcultural shift in sexuality – a deeply needed home for "ladies, artists, and queers" to make the subversive smut they wanted to see in the world.
Foxes of all sizes, genders, races, styles, sexualities, and cultural affiliations bound together by a common desire to see diversity, authenticity, and ethical production become common law in alt pornography.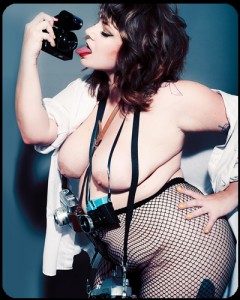 Indie Porn Revolution is owned, operated, curated, directed, and edited by the award-winning fat femme queer feminist pornographer Courtney Trouble. Not only does Courtney own and operate the site (and it's parent production company TROUBLEfilms) – Courtney is also one of it's finest porn stars.
"Being in front of the camera is equally, if not more, important to me and being behind it. As a plus size queer femme with tattoos, my body has been radicalized by society. I have created space for myself to be a porn star without the limitations of the dominant porn industry or media at large.
Extending that opportunity to others who are marginalized, mistreated, or misunderstood to break the stereotypes bound to them by porn and media is my driving force behind making porn.Being a performer also informs me on being an ethical, respectful, creative, and intuitive director.
I know first-hand what it's like to fuck on film, and in turn make it the best experience possible for the people I shoot – it makes my porn intimate and romantic and raunchy and hardcore because my performers trust me – I wouldn't make them do anything I wouldn't do."  Visit Courtney Trouble's Fox Page
Not A Member?

Memberships are offered in a 5 day, 14 day, monthly, or multi-month subscriptions. All levels include unrestricted access to all of our exclusive content, including web-only videos, excerpts from full length films, photosets, and downloads. Videos are shot in HD, exported at the highest quality available, and fully accessible via computer, iPhone, iPad, or Android. Join Now for Immediate Access.
Not ready to join, still making up your mind? Visit our tour page to sample some of the videos and photos we've put together over the past ten years of making indie porn.
You don't need to sign up for a membership in order to enjoy our extensive collection of hot, hot, ethically-made, feminist, subversively sexy pornography. Just buy a clip, digital download, or DVD from our  store. Your content will be delivered instantly to your downloads folder after making a one-time purchase, and your DVDs will be shipped out by Courtney Trouble herself!
All of our content is outlined publicly on our site, including free clips, descriptions, and sample photos for each update. Check out our categories and see what we've got before treating yourself to a membership and diving in deep… Go ahead, take a look for yourself – we know our porn is awesome, so we've laid it all out for you to taste.
Photo Sets | Videos | Meet Our Foxes | Read Our Blog | Shop for Clips